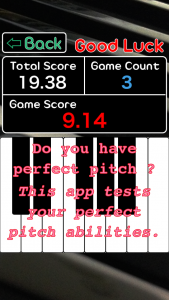 Don't want to learn the pitch?
Used by 500,000 users.
It was introduced on radio and Youtube.
Piano performance is essential.
With this application, you can practice the sound with the sense.
Do you have Perfect Pitch?
The ability to identify musical notes without any absolute pitch as a reference?
Try this game for perfect pitch and find out.
And you can play piano.
If you have confidence in perfect pitch,Challenge this game.
You can check your perfect pitch.
If perfect pitch has confidence, please compete with other players in a game center.
It's free game. so you can try it.
Contents
First hear piano sound.
Carry out the tap of the keyboard for the same turn as the sound which sounded.
In the case of a correct answer, go to the next stage.
Please carry out the tap of the keyboard in the turn same in the case of an inaccurate solution as the sound which sounded again.
The time taken into 10 games serves as a score.
Please answer as soon as possible and compete with other players for a short time.
Download