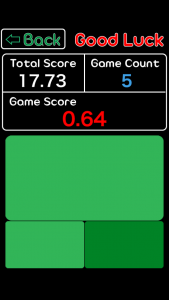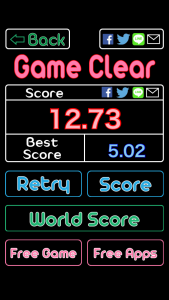 You can measure the color speed judgment.
—————————-
Features
—————————-
You can measure the color speed judgment.
You can test the color ability in the game feeling.
You can diagnose the colors of black and white.
—————————-
How to play
—————————-
■ rules
· The same color as the upper stage of color please choose from the lower part of the left and right color.
· Please tap the color of as soon as possible correct answer.
· Since the game score is countdown, please tap the color of the correct answer before it becomes 0.
· Remaining game score will be added to the total score.
· Game will end if you select the wrong color.
■ game screen display
· Total score
Remaining game score when you clear will be added.
· Game count
Surface will proceed Clearing.
· Game Score
Please tap the correct answer within 5 seconds.
■ game level of
· Easy
Color problems that the difference of color is clearly seen that will appear on the exam.
· Normal
Will appear on the exam the color of the problem confusing than Easy.
· Hard
While tell the difference of color are questions that are difficult problem.
—————————-
Other features
—————————-
■ Index
I can see the past score of the game.
■ World Index
You can compare with other players score.
■ setting
There are other settings, etc..
■ sharing
You can share the score to social.