Learn Japanese Katakana Characters High Speed Tap – It's Brain Training. You can challenge the game super hard. | iPhone Android Free Game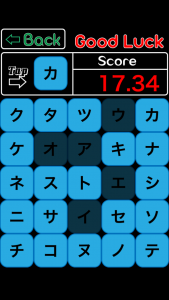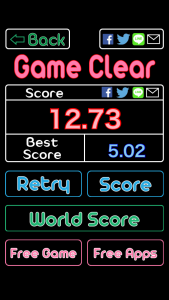 This is the app that can be measured by trained brain.
—————————-
Features
—————————-
But when is Normal game is a common Katakana early press game,
Hard, in the Super Hard game, I was different from other games
Since there is a difficulty, if you are confident should be especially challenging.
—————————-
How to play
—————————-
■ rules
· Hiragana that is displayed in the upper left corner will be the Katakana that status quo tap.
· I will tap a Katakana that is displayed from the panel.
· This is the game to compete the time to tap the panel of up to ア over ン.
· all the time until the tap will score.
· If you tap the wrong panel increases the time penalty.■ game screen display
Score
Appears the time it took until clear.· Upper left panel
Please Tap to look for the same panel as the Katakana displayed from the bottom.· lower panel
Because the numbers are displayed, please tap the panel of the corresponding Katakana.
Since it disappears when you tap the correct answer, please erase all.
■ game level of
· Easy
The panel lined up in random of ア~ノ, I tap the panel to ア~ノ of order.
· Normal
The panel lined up in order of random ア~ノ, I will tap from side-by-side panel randomly ア~ノ.
· Hard
The panel lined up in random of ア~ン, I will tap from side-by-side panel randomly ア~ン.
—————————-
Other features
—————————-
■ Index
I can see the past score of the game.
■ World Index
You can compare with other players score.
■ setting
There are other settings, etc..
■ sharing
You can share the score to social.