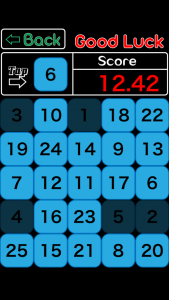 Free Game.
★★★★★
* What Game ?
It's a usual tap 123 game ?
NO,
NO,
NO,
It's a super hard 123 game .
You can try.
You can do it.
Features:
* The tap of the panel is carried out in the turn of 1 to 25.
* It is a game which competes for time to carry out the tap of the panel from 1 to 25.
* The tap of the panel located in a line at random is carried out to order from 1 to 25.
* Time to carry out a tap to 25 serves as a score.
* When the tap of the wrong panel is carried out, time increases by a penalty.
Game Level
* Easy
* Normal
* Hard
* Super Hard
It can compete with other players by game center correspondence.
Request
* Please contact a review and support, if related with a request.
* About an affair with many requests, I will consider mounting.